Summer 2011

Due to personal circumstances I am presently unable to devote much time to The Mandala Project.
The Mandala Gallery will remain open for submissions and I am happy to receive emails, answer questions or offer assistance as I am able. I do enjoy hearing from folks, so please don't hesitate to contact me.

I would also like to thank the many folks that have contacted me over the years with kind words and personal mandala stories.I do encourage you to sign on to our facebook page, where I look forward to engaging with mandala enthusiasts.
Keep the circle moving!
Lori Bailey Cunningham
Founder
PS: Check out my new book, Mandala: Patterns of the Universe. It's chock full of juicy images, mostly from nature - all related to the mandala in shape or concept.
Help the Mandala Project!
Any purchase made from Amazon by clicking through from this site
helps fund The Mandala Project...Thanks!
---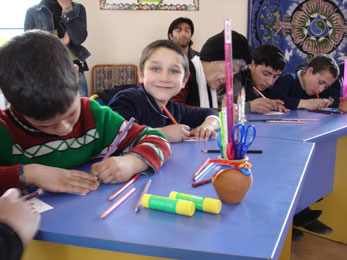 The children are so vibrant and full of life despite their difficult circumstances
march 2006:
Mandala Workshop in Armenia
In March 2006, my family and I visited our ancestral homeland of Armenia. We spent almost two weeks visiting rural towns as well as exploring the capital city of Yerevan. While there, I was able to do a mandala workshop in Yerevan at a community center called Orran. Orran is a non-governmental organization that generously helps children, families and elderly folks. Orran has created a safe haven for children who have been abused or have been the sole support of their families by begging on the streets. They provide food, clothing, educational support in the form of after school care and scholarships, and especially love and nurturing. It was such an impressive operation, and I was very happy to be able to share mandala-making with them.
Youth for
a New World
The Mandala Project is now operating under the 501c3 non-profit umbrella of Youth for a New World. YNW is a wonderful organization, founded by Mike Seymour that is dedicated to promoting peace through education for youths.
---